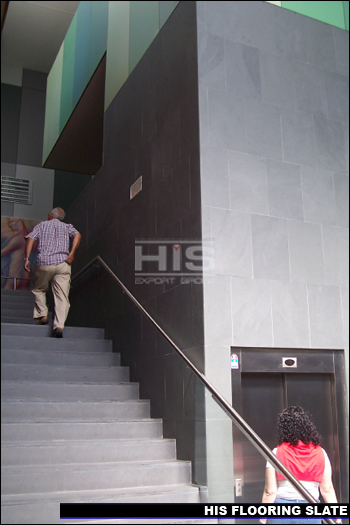 The application of the slate are many and will be for Pitch Roofing, Flooring and Facades or Cladding.
Roofing Slates is presented in different formats, square, rectangular, half moon, rounded, etc. Depending on the final market the formats can vary. Also on the thickness it can goes from 4mm up to 10mm and again depending on the country. The normal sizes for the Roofing slates are from 30X30 up to 90X90cm and in some special project 120X120.
On the Flooring side, we can almost do any size slate with any thickens and format. From tiles 30X30cm up to big Slabs 220cm length and 120cm width, and different thickness starting in 1,2mm and up to 7,5cm thick. These slates are use for internal and external floor, and also for facades (internal and external), for residential houses, public places, buildings, patios, etc. Normally when the slates are use for facades, we recommend a fixing system but that decision is taking to the people that is fixing the materials.

Tableware Slates , is a new launched product we are adding to our range of product, being asked for different customers, as the beauty of the slate make any meal presentation, unique and beauty. We are producing slate coaster, table mats, trays, clocks and few more product that will be added to our portfolio of products.